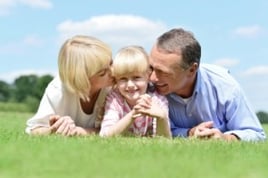 As summer begins, a huge concern for parents is the learning loss that occurs across the board, affecting learning in all subjects. Students most often test poorly at the beginning of the school year by comparison to testing at the end of the school year. After several years of recurrent learning loss, by high school or college, a student is at risk for performing below their grade level. Luckily there are many activities in which kids can engage to combat summer "brain drain"! Read this list of 10 ways to keep your child's brain active this summer!
1. Keeping a Journal
A great way for a child to maintain their writing skills is having them keep a journal. Have them set aside at least twenty minutes a day to write. If a child has trouble finding a topic, encourage them to begin writing even so. They will be surprised to find they have more to write about than they may have initially thought. Additionally, children often have trouble initiating a writing assignment, and the simple step of beginning can help them develop initiation skills. Allow them to write about whatever topic they choose, as writing is also a helpful tool for mental health, allowing the child a space for personal expression.
2. Learning an Instrument
Learning to play an instrument is a great way to exercise brain functions. Various studies have indicated the strong correlation between music training and brain development. Playing an instrument requires engagement in various parts of the brain including the auditory system, motor skills, and executive functions. Ask your child what instrument they would be interested in playing to ensure their interest in learning the instrument. To read more about how music impacts brain development, read our previous blog Music and Brain Development.
3. Online Math Games
Kids today love to play games on digital devices and computers. To satify their interests but also keep their brains active and learning, set time aside in the day for them to play math games on the internet. There are various websites that have math problems and worksheets prepared for children of all ages and grade levels, including www.coolmath-games.com. Additionally, there are several apps for mobile devices specifically for math practice.
4. Book Club
Organize a book club including other children in the same grade or in the neighborhood. Host the children weekly to choose a book to read and discuss the books the following week. This way the children pick the books they are interested in reading and are able to engage in conversations about topics that interest them. Reading regularly is an important practice for all children and the discussion that follows is great for developing analytical skills and conversational skills with a group, which will benefit them in the school years to come.
5. Lemonade Stand
Helping a child set up a lemonade stand teaches them many valuable lessons. Lemonade stands are a great way to develop early business skills, including learning to develop a good product and customer service. It's a great way to develop social skills as a child. Plus, it requires some simple math skills and organization as well. Be sure to always supervise your children.
6. Playing Board Games
Playing board games with your child or having them play board games with other children is a great way to engage a child's brain. There are a variety of games that are also educational, so your child has fun while learning and keeping the brain active. You can get educational board games that are specific to certain age ranges and learning levels.
7. Gardening
Gardening is a great way for children to learn new skills but also enjoy being outside in the summertime. In addition to teaching your child how to make plants grow, starting a garden with your child can help you teach them valuable lessons about nutrition. Furthermore, growing vegetables takes time, commitment, and care. At the end of the process, getting to enjoy eating the vegetables they have grown will give them a sense of accomplishment and reward.
8. Summer School
Enrolling your child is summer school will keep your child learning all year round. For parents who may not be able to spend time with their child during the day due to work, this ensures the child is getting social time with other kids their age while also getting a head start on the next year by keeping their brain active. If your child is struggling in one particular subject, you can choose to focus on this subject, or you can enroll a child in a class of their interest.
9. Sports
In addition to keeping your child's brain active in school subjects, another great way to exercise the mind is to involve your child in summer sports. Studies have proven sports to be beneficial in exercising a person's executive functions, which can benefit your child in various aspects of their life. Team sports also help teach children invaluable lessons about how to function in a group efficiently. There are various sports camps available in the summer time.
10. Neurotherapy
Neurotherapy is a great way to combat summer learning loss because it exercises brainwaves to keep them functioning at their best possible ability while also improving memory, organizational skills, and other executive functions. Neurotherapy helps the brain work at the most optimal performance level. By the end of the summer, your child will excel at the beginning of their year! If your child is an athlete, neurotherapy will also improve their sports performance. For more information about how neurotherapy can benefit your child, schedule a free consultation with our director Dr. Jolene Ross.
Image courtesy of stockimages at FreeDigitalPhotos.net