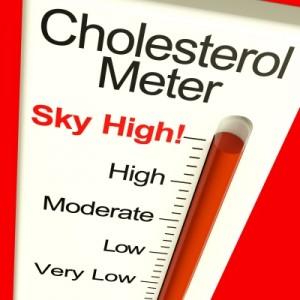 When a person has high levels of cholesterol, a fat-like substance in a person's blood, over time it builds up in the walls of arteries, creating a greater likelihood of heart disease, the number one killer of men and women in the United States each year. High cholesterol can also be the culprit for strokes. There are two main types of cholesterol. LDL cholesterol, known as the bad cholesterol, is the main source of unwanted build up in the arteries. HDL cholesterol is known as the good cholesterol, helping keep the bad cholesterol from building up in the arteries. There are some causes of high cholesterol that a person does not have control over such as heredity, age, and gender.
The best way to control cholesterol levels is to live a healthy lifestyle. These are some causes of high cholesterol.
1. The food a person eats directly affects how much cholesterol builds up in the arteries. Saturated fat is the main cause of higher levels of cholesterol. Eating a diet low in saturated fat will directly affect the your levels of cholesterol. Eat lots of vegetables, beans, nuts, and fish high in omega-3s to lower cholesterol levels.
2. The amount of physical activity a person gets will directly affect how much cholesterol builds up in the blood. Higher levels of activity will actually promote good cholesterol and eliminate the bad. Try being physically active for at least a half hour each day.
3. Being overweight puts a person at risk for heart disease. Maintaining a healthy weight will help a person control cholesterol levels. Luckily, combining eating well with every day physical activity can help a person shed some unwanted pounds as well as lower cholesterol levels.
Struggling with maintaining a healthy lifestyle? Lifestyle choices also directly impact mental health as well as physical health. If guidance is needed, call to set up a free consultation with our director Dr. Jolene Ross. Our nutrition counselor Shayna Strickland can help develop a diet plan specific to your needs and lifestyle to ensure a healthy future.
Image courtesy of Stuart Miles at FreeDigitalPhotos.net
Image courtesy of Stuart Miles at FreeDigitalPhotos.net