By Shayna Ross, Health Coach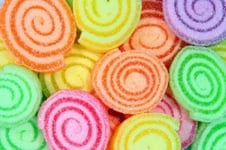 Offer candy that is allergen free and put a sign up for trick-or-treaters stating what allergen-free candy you have and what allergens the candy does not have. You can also provide separate bowls for each allergen-free candy so that there is no confusion or risk of accidental contamination/illness for a child with candy allergies. Here are some resources:
Offer non-candy Halloween treats. Have you heard of the Teal Pumpkin project? It raises awareness of food allergies and promotes inclusion of all trick-or-treaters. Read more about the steps to participate:

Provide non-food treats for trick-or-treaters.
Place a teal pumpkin - the color of food allergy awareness -in front of your home to indicate you have non-food treats available.
Display a free printable sign to explain the meaning of your teal pumpkin.
First image courtesy of lobster20 at FreeDigitalPhotos.net
Second image courtesy of Iamnee at FreeDigitalPhotos.net